Aintree Facility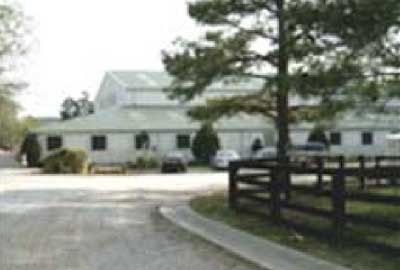 Aintree offers 28 stalls - all which have rubber mats. The stalls measure 10'x12' and have huge windows with shutters that can open and close according to the weather. The barn is also equipped with an automatic fly spray system. The aisle way is very spacious with plenty of room for horse traffic to pass! Across from each stall is a semi-private locker where boarders can put their belongings & lock if they choose.

Aintree has a small indoor arena (measuring approximately 80'x80'). But you will hear no complaints on windy, cold days because it is a nice, warm, dry place to ride. We find that this size works well for our beginner riders and the occasional young horses in training.

Our outdoor arena is approximately 150' x 250' with a redwood deck for viewing. We have an automatic sprinkler system & take pride in changing our course of jumps according to the season. Check out the Halloween & Winter Holiday jumps each year!

Claudia Billups, Susan Johnson, Caden Gill, & Louise Byram are our beginner through intermediate riding instructors. Dee Pellegrini manages Aintree along with competing in the Adult Amateurs and helping with "Special Projects" at Spring Mill Farm (most notably Dave).

For more information, please email us at aintreefarmstable AT yahoo DOT com.